Program Director
Jen Mattos
Please contact me with questions
Program Information
Early Bird Price $60 (Reg $100)
Age Group: 2019 (Birthyear) & 2018 Boys and Girls
Location: Stonehouse Park
Address: Escuela Drive, Rancho Murieta
Start Date : September 9, 2022
Session Dates : Sep 9, 16, 23, 30 and Oct 14 and 21. 
This is our 8th year with the Mini Kickers program that provides a simple introductory option for soccer at this age group as all 2018 (U5) and 2019 (U4) players are all registered into the program. 
It consists of a 6-session program, 6-7 PM on Friday nights up at Stonehouse Park.
The dates are September 9th, 16th, 23rd, 30th, October 14th, 21st. (skipping week of 7/8th for Summerfest)
What can you plan for:
Have your player show up with a water bottle, size 3 soccer ball, cleats, shin guards with socks to cover. (For this program, you do not need to purchase a uniform kit. If you have, we will provide instructions on how to get a refund)
What you can expect from us:
End of July/early August, you will receive a follow up email confirming the dates, asking for your players shirt size and providing you any other details for the program
Volunteer to Coach - Learn while your child learns
We have created a unique program for parents and children. In this program our volunteer parent coaches learn about soccer and how to coach as their child experiences soccer for the first time. You have the opportunity to spend active time as a family while experiencing the joy of soccer. 
Great introduction to soccer
Fun and safe environment
Overseen by our full time
Learn new soccer skills
Stay Fit
Meet new friends
Frequently asked questions
Mini Kickers
We have tried our best to think of every question, if we missed one, please let us know!
More
You May Also Like
Some description text for this item
01
Have you always dreamed of playing soccer at the highest level possible? Join our competitive program and experienced coaches. We have the most qualified coaches in California.
02
No experience in soccer, but eager to try? Recreation soccer is the right choice for everyone who wants to enjoy the excitement of soccer in a fun environment.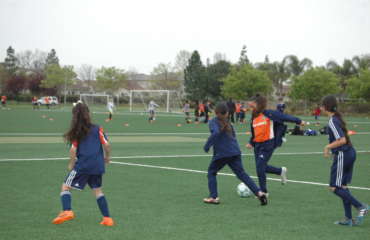 03
Are you wanting extra soccer and looking for someone to play with during the holidays? Elk Grove Soccer welcomes all fun campers to join our camps!