Program Director
Sean Christophersen
Please contact me with questions
Program Information
Attackers and GK Clinic
Age Group: 2013 (Birthyear) / 2012 / 2011 / 2010 / 2009 / 2008
Location: Bartholomew Sports Park – Field 3
Address: 10150 Franklin High Rd Elk Grove, CA 95757
Start Date : Friday June 3
Time: 2013 / 2012 / 2011  at 5pm – 6pm and 2010 / 2009 / 2008 at 6pm – 7pm
Do you want to take your game to the next level? This specialized training program will help players outperform their club teammates and peers! The curriculum will help build confidence, social skills, maturity & mental understanding of the game. The training is designed for the serious player who wants to put in the extra work to improve their overall game. We offer players the opportunity to advance all areas of their game in a FUN & Demanding Environment. Each session is assigned 2-3 competitive Elk Grove Soccer coaches and capped at 24 players. The curriculum is focused on improving ball control, rapid decision making, technical and tactical skills.
Mental Agility
Game Awareness
Game Understanding
1v1 Defending and Attacking
Challenge yourself against other Elk Grove Players
Overseen by our full time
register for friday skills
*This can be completed at any time. However, please note due to the popularity of our program we may restrict numbers based on signups. Please register as soon as possible. 
Frequently asked questions
Technical Training
We have tried our best to think of every question, if we missed one, please let us know!
More
You May Also Like
Some description text for this item
01
Have you always dreamed of playing soccer at the highest level possible? Join our competitive program and experienced coaches. We have the most qualified coaches in California.
02
No experience in soccer, but eager to try? Recreation soccer is the right choice for everyone who wants to enjoy the excitement of soccer in a fun environment.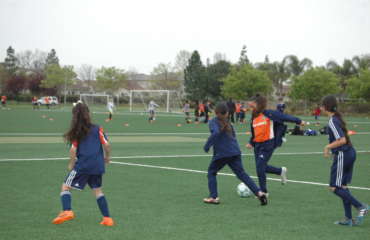 03
Are you wanting extra soccer and looking for someone to play with during the holidays? Elk Grove Soccer welcomes all fun campers to join our camps!